Welcome to Chimney Sweeps North East
Hello, my name is Ian Welford and I am a NACS, HETAS and NVQ Approved Chimney Sweep based in the North East.

I provide a range of chimney sweeping and stove repair services throughout Newcastle upon Tyne, Durham and Northumberland.
Quality approved Chimney Sweeping Services….
A careful and professional approach to sweeping your chimney and appliance.
Give your stove a new lease of life with a service; new parts, glass or rope seal.
A video check or recording provides an inside view of your flue or chimney.
What's included in a chimney sweep?
Chimney Sweeps North East carry out a full power sweep, inspection of your chimney stack and pot, and also check your multi-fuel stove.
I also carry out a smoke check at the end of your chimney sweep and provide you with a certificate for insurance purposes.
This details the work completed. Proof you can provide to your insurance company or new home owners that your sweep.
It also confirms the work was completed by an approved chimney sweep and all the necessary checks have been completed.
More than just a chimney sweep
Your chimney sweep will be carried out by an experienced and approved chimney sweep Ian Welford. Ian can provide a range of sweeping services including:
A professional chimney sweep using the latest in modern technology to carry out your sweep safely and cleanly.
Layers of protective sheeting laid down before work begins and the opening covered.
A certified vacuum appliance is used to control soot and dust during the sweeping process.
Optional stove service once the sweep is complete.
A NACS Chimney Sweep certificate issued for all the work carried out.
An optional air cleaner – for particularly dirty chimneys.
*Covid-19 measures*
I am continuing to take the necessary precautions to protect our customers at this unprecedented time. 
Concerned about Covid? For complete peace of mind I can wear a versaflow during your sweep or stove repair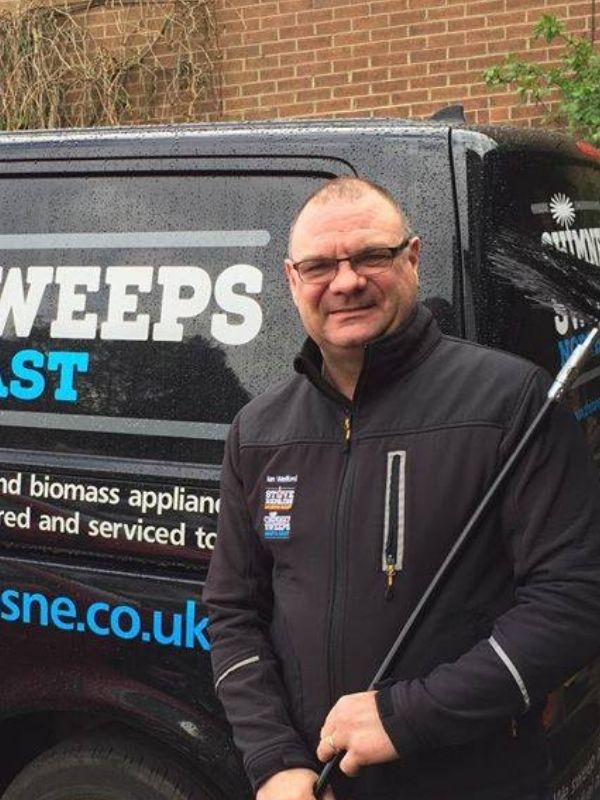 A local chimney sweep, always happy to help.
My customers are in and around the North East of England including Northumberland, Wearside and County Durham.
Customer service is my priority, having spent 30 years working as a service engineer.  I will never overbook you and leave you waiting for me to arrive.
However sometimes unforeseen problems may arise and whilst all precautions are taken when making the booking to get there within the agreed time, I will make sure you are kept informed if I am running late.
I'm always pleased to hear feedback. Here are some of our latest comments from my Facebook page.
Keep warm and safe. Have your solid fuel appliance swept regularly.
I'll check your stove and flue as part of your sweep to give you peace of mind.